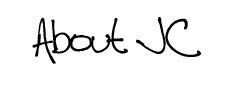 While working as a corporate trainer, JC began to teach herself lampworking in 2000. In January 2005, addicted to melting glass and having established the roots of her current business, she began making beads full time. The decision to dedicate her total energy to learning the craft and business of beadmaking allowed for a self-education revolution for JC who soon found additional energy from the advise and inspiration of her peers. After exploring and learning to work enamels on lampwork beads, JC began teaching enamel workshops and classes in 2007. Her fondness for enamel was quickly surpassed by a desire to control stringer and create designs with fine, straight lines inspired by a long history of architectural interest. In 2010 JC began sharing her stringer skills in the form of workshops and the online tutorial project, "The Joy of Stringer". JC currently works from a home studio on the Mendocino coast in northern California.

All glass was created by JC Herrell and annealed in a digitally controllled kiln for durability. All glass made with the intention of creating happiness for both you and for JC. Photographs always protray colors as closely as possible, however monitor colors and real-life lighting varies and the colors will reflect those changes. If, for any reason, you are unsatisifed with your purchase, please contact JC immediately.
Please note that all tutorial, wholesale, discount and custom purchases are final.
All glass purchased from JC directly improve her ability to continue to make better and better beads. Thank you for your support, becoming a part of this adventure and thus a part of the creative process. Thank you for enjoying!